Our Post is located in West Des Moines, Iowa. We received our Charter on January 6, 1947 and are named in honor of John Emerick and Harry Williams - both Veterans killed in WWII.
Our current membership include 80 veterans from World War II through the Afghanistan and Iraq conflict in the Global War on Terrorism. We meet on the first Monday of the month (except July in 2021 when we meet on July 12th and September when we meet on the 13th) at 7:00 pm in the West Des Moines Community Center, 217 5th St., West Des Moines, IA 50265
Hosting educational programs and community services throughout the year emphasizes our commitment to our community.
Follow us on Facebook:
https://www.facebook.com/VFW8879/
VFW Patriot's Pen
VFW Post 8879 encourages all local Elementary, Junior High, and High Schools to show-case their student's talents in the Veterans Of Foreign Wars Educational Programs. These programs offer cash awards recognizing the student's communication skills and their Love- Of -Country. The programs include:


Each year more than 132,000 students in grades 6-8 enter the VFW's Patriot's Pen youth essay contest. The national first-place winner wins $5,000 and an all-expense-paid trip to Washington, D.C. The first-place winner from each state competes for national awards totaling $55,000, with each first-place state winner receiving a minimum of $500 at the national level.
The essay contest encourages young minds to examine America's history, along with their own experiences in modern American society, by drafting a 300- to 400-word essay, expressing their views based on a patriotic theme chosen by the VFW Commander-in-Chief. Want to apply? Read the rules and eligibility requirements and download the entry form before submitting your entry to your local VFW 8879 Post.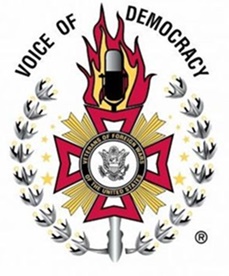 VFW Voice of Democracy
Established in 1947, our
Voice of Democracy
audio-essay program provides high school students with the unique opportunity to express themselves in regards to a democratic and patriotic-themed recorded essay. Each year, nearly 40,000 9-12 grade students from across the country enter to win their share of $2.1 million in educational scholarships and incentives awarded through the program.
The national first-place winner receives a $30,000 scholarship paid directly to the recipient's American university, college or vocational/technical school. A complete list of other national scholarships range from $1,000-$16,000, and the first-place winner from each VFW Department (state) wins a minimum scholarship of $1,000 and an all-expense-paid trip to Washington, D.C. Want to apply? Read the rules and eligibility requirements and download the entry form before you submit your entry at your local VFW Post 8879.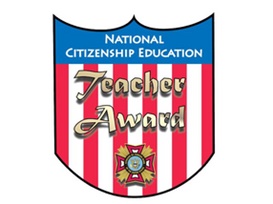 VFW Teacher Award
Without our nation's veterans, America wouldn't be the great nation it is today. Our youth deserve to learn about our rich history, traditions and the role of our veterans in creating and shaping America.

The VFW Teacher of the Year award contest recognizes three exceptional teachers for their outstanding commitment to teaching Americanism and patriotism to their students. Each year, a classroom elementary, junior high and high school teacher whose curriculum focuses on citizenship education topics — for at least half of the school day in a classroom environment — can be nominated for the Smart/Maher VFW National Citizenship Education Teacher Award. Winners receive:
A $1,000 award for professional development expenses.
A $1,000 award for his/her school.
Two award plaques: one for the teacher, the other for his/her school.
An all-expenses-paid trip to attend a VFW conference to receive their award.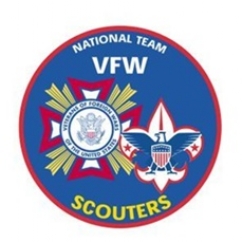 VFW Scouters
Some of our earliest ties to the community involve youth groups and perhaps none are stronger or more lasting than the relationship between the VFW and America's scouting organizations. In fact, our partnership with the Boy Scouts of America dates back to 1915 when VFW Post 2100 helped to establish Troop 1 in Everett, Washington.

Our Scout of the Year program provides members of the Boy Scouts and Girl Scouts who display standout citizenship, patriotism and love of country with the opportunity to be rewarded with college scholarships of up to $5,000.
Before submitting your Scout of the Year application, please review the rules and eligibility requirements.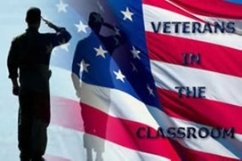 VFW in the Classroom
Every day, we strive to thank America's educators by providing them with helpful resources and encouraging our members to visit local classrooms. Let us help you educate America's future leaders and bring history to life!

Veterans play an important role in educating our nation's youth about the founding principles upon which America was founded. As theater of war veterans, VFW members can provide students with a unique perspective about the sacrifices America's service members make to maintain freedom for all of us.

When visiting a classroom, a VFW member will prepare a brief introduction, a main presentation and a Q&A session. Depending on the topic, a member may bring appropriate memorabilia, uniforms, photographs and other relevant material.

American history is something we all share, and there's no one better to help tell that story than someone who's had a great part in shaping it.

Contact VFW Post 8879 to arrange for a veteran to visit your classroom.
For Further Information Contact:
Gregory Allen - Mobile: 316-665-0507 or
Randy Steig - Mobile: 515-975-3783